Following the accreditation of CNAS (L4549), SKYTE Testing has successfully passed CPSC accreditation on those upgraded items. On 9 Mar, 2011, the upgraded accreditation scope has been on CPSC official website. You may check our CPSC accreditation scope by searching our number 1336.
Through this new capability upgrading, SKYTE has strengthened toy testing capability on harmful substances and we will provide more testing services focusing on Europe and America market.
For more information, please visit CPSC website:
http://www.cpsc.gov/cgi-bin/LabSearch/ViewLab.aspx?LabID=1336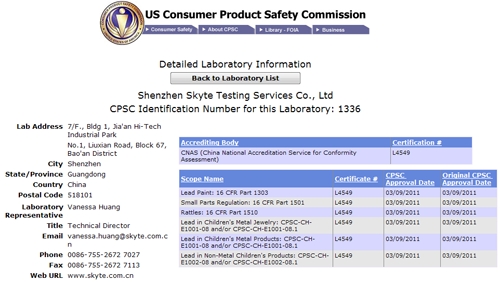 As one of the leaders and innovators in inspection, verification, testing and certification field in China, SKYTE Testing Services Shenzhen Co., Ltd (SKYTE) is a branch testing institute founded by a national chemical testing center (China National Analytical Center Guangzhou, NACC) in Shenzhen. It operates under ISO/IEC 17025 and has been accredited by CNAS(L4549) , CMA(2010191807Z) and CPSC(1336 ) . With the recognition of its certifications by ILAC-MRA(Laboratory Accreditation Cooperation-Mutual Recognition Arrangement), SKYTE testing report is legally valid and has international credibility. SKYTE service scope includes industry materials testing, consumer goods testing, material analysis, environment safety and metrology & calibration services. The clients spread over many different areas including electrical and electronic, toys, textiles, shoes, leather, food, pharmaceuticals, cosmetics, environmental protection and so on.
Headquartered in Shenzhen, China, SKYTE has established its branch offices in Europe, Hong Kong and major cities of mainland to ensure to provide clients with convenient services through its comprehensive service network. Upholding the principle of Impartial Quality Delivered with equal capacity, equal care, equal action and equal credibility, SKYTE strives to provide comprehensive and professional quality and technology services to manufactories, buyers and retailers from all industries.
For details, please contact our marketing department:
Hotline:400 6898 200;
Fax:0755 2672 7113; Email:service@skyte.com.cn