FDA issued the final regulation Deeming Regulation on May 10, 2016. The regulation came into force on August 8, 2016, and included all vapor products in the range of tobacco products. Through this regulation, FDA can legally regulate newly tobacco products, including ENDS (Electronic Nicotine Delivery Systems). The regulations have made a series of regulations on the production, import, packaging, labeling, advertising, promotion and sales of new tobacco products. Products containing nicotine or products that may be used with nicotine are regulated by the FDA. Both ENDS products and components and parts are under the regulate, but not include accessories. Therefore, all vapor products, including electronic cigarettes, must comply with the requirements of the FDA Tobacco Control Act. Below is the detail for FDA's regulations on electronic cigarettes.
The services we can provide
technical research and development team, equipped with advanced equipments, and keeps good cooperation with the world's most influential electronic cigarette brand. The testing methods for e-liquid and emission of e-cigarette have been accredited by CNAS(China National Accreditation Service for Conformity Assessment).The report issued by Skyte is widely accepted internationally. We can provide the following test services for customers:
1.Assist in production site and product list registration.
2.Health documentation preparation and submission.
3.Ingredient list registration.
4.Harmful and potentially harmful constituent test and report submission.
5.Assist in Premarket Tobacco Application(PMTA).
Compliance requirements for manufacturers :
Registration and Product Listing
1.Registration and product listing are only applicable to domestic, U.S. establishments where "manufacturing activity" is occurring.
2.Chinese manufacturers are not required to submit registration and product list to the FDA.
3.Definition of manufacturer:Any person, including any repacker or relabeler, who (A) manufactures, fabricates, assembles, processes, or labels a tobacco product; or (B) imports a finished tobacco product for sale or distribution in the United States.
4.Deadline:
4.1Any companies established before August 8, 2016 to continue manufacturing ENDS products must complete the site registration and the Posting of the product list by October 12, 2017, and update the list by June 30, 2018, and complete the registration for the following year by December 31, 2018.
4.2The newly established ENDS products manufacturing enterprise after August 8, 2016 must immediately complete the registration of production site and submission of product list.
Ingredient list submission
1.Applicable to all products marketed in the United States, not limited to products registered in the United States.
2.Each component must be uniquely identified.
3.The type of ingredients may include a single constituent and compounds.
4.Deadline:
For Newly marketed products, they must be submitted 90 days before marketed.
5.Ways of Submission: by eSubmitter and CTP system.
https://ctpportal.fda.gov/ctpportal/login.jsp.
Harmful and potentially harmful constituent reports(HPHC)
1.Harmful and potentially harmful constituent means any compound present in the ENDS product or its smoke which may cause direct or indirect harm to the consumer.
2.Deadline:
2.1November 8, 2019.
2.2For products that marketed after November 8, 2019, reports must be submitted 90 days before marketed.
3.Ways of Submission: by eSubmitter and CTP system.
https://ctpportal.fda.gov/ctpportal/login.jsp.
4.Please see the table below on Harmful and potentially harmful constituents: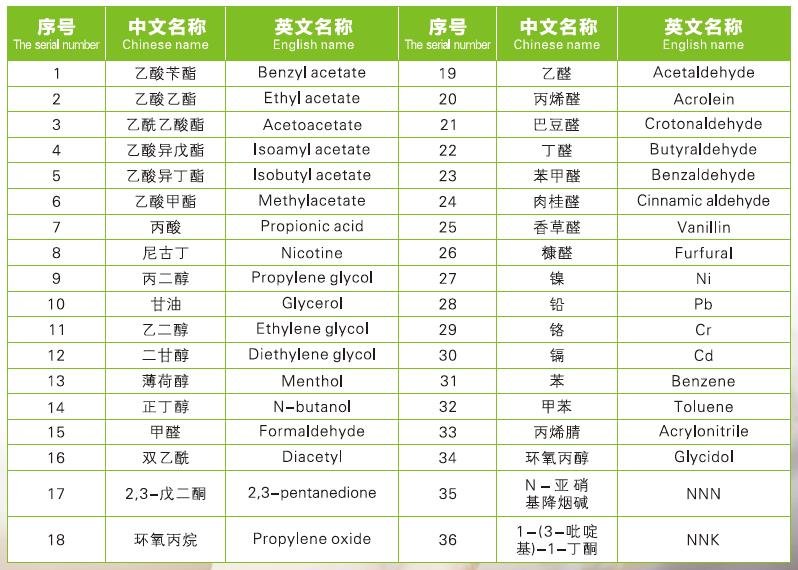 5.FDA recommends testing of PH (for e-liquids) and TPM.
6.For atomizing apparatus, the following conditions should be met in the test:
6.1Select samples that are still within their shelf life
6.2The samples should contain at least three different batches with at least 7 parallel samples for each batch, and the sampling location and date must be recorded.
6.3For re-filled atomizing apparatus, e-liquids with different nicotine concentrations should be provided for testing.
6.4For closed atomization devices, e-liquid testing samples should be those used for packaging and sale.
7.E-liquids should be tested under two different conditions, so that FDA can know the emission range of the product.
7.1 Use device with small emission amount.
7.2 Use an atomizer that provides a higher concentration of aerosols.
Premarket Tobacco Application(PMTA)
1.For e-cigarettes marketed before August 8, 2016, PMTA must be submitted by August 8, 2022.
2.You must show that permitting your new tobacco product to be marketed would be appropriate for the protection of the public health (APPH).
3.Scientific research and analysis related to your products must be submitted.