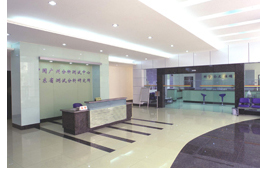 Guangdong Institute of Analysis (GIA) was established in 1972. Its predecessor was Guangdong Central Testing Laboratory founded in 1960. In 1985, China National Analytical Center, Guangzhou (NACC), a national level analysis and testing center, was established based on GIA, with the approval of the State Science and Technology Commission (SSTC, now the Ministry of Science and Technology, MOST), and Guangdong Provincial Government. NACC is a comprehensive institution of research and test service specialized in physical and chemical analysis, and has 50 years history.
NACC has passed the provincial grade and national grade of the China Metrological Accreditation (CMA) in 1990 and 1991, respectively. After years of development, NACC has become the Type A testing organization and the third-party testing and calibration laboratory which has passed the accreditation of CMA. NACC endeavors to provide great support of analysis and testing generic technology for the technological innovation of the enterprises,and its management system meets the requirements of ISO/IEC17025 as well as ISO/IEC 17020 and so runs in accordance with ISO9001.
NACC has been authorized to be a national-grade institution of test and appraisal for science and technology achievements by the SSTC and the State Bureau of Quality and Technology Supervision (SBQT). It also co-operated with Sun Yat-Sen University to found research bases of post-doctoral station. NACC has passed accreditation of "Safety Appraisal Institution on Transport of Goods" acknowledged by the Civil Aviation Administration of China in 2007. It also possesses Radiation Dose Metrological Verification Station of Guangdong Province, which is authorized by the Administration of Quality and Technology Supervision of Guangdong Province. In 2006, Institute of Forensic Analysis was founded in NACC under the approval of Department of Justice of Guangdong Province.
NACC has affiliated organizations of the Guangdong Key Laboratory of Chemical Emergency Test, the Guangdong Test and Evaluation Center of Material Physical-Chemical Property, Guangdong Public Laboratory of Analysis and Testing Technology, and Guangdong Chemical Hazards Emergency Detection Technology Research Center..
NACC hosts the Guangdong Association on Instrumental Analysis, the Guangdong Nuclear Society and the Office of the Administration Committee for Large Scientific Instruments Cooperation Network in Pan-Pearl River Delta and Guangdong Region.
NACC has been responsible for editing and publishing "Journal of Instrumental Analysis", which is one of the Core Journals and the journal of China Association on Instrumental Analysis.
As the further education base of Guangdong Province, NACC holds training classes of various kinds of analysis and testing technology, with the method of combining teaching and practice, to train testing technicians for the society.